The tiny black dress of desserts is pound cake. It may be dressed up or down, is great anytime, and is basic yet lovely. The Cake Bible by Rose Levy Beranbaum, a classic and necessary guidebook for all bakers, has my all-time favorite recipe. Rose's recipe uses milk, a lot of additional butter, and a little baking powder, although the majority of classic pound cake recipes ask for equal weights of flour, sugar, eggs, and butter. A rich, buttery, and fluffy pound cake that melts in your mouth is the end product.
YOU'LL NEED TO MAKE POUND CAKE
A few remarks regarding the process are in order before we get to the detailed instructions. The weight of the sugar is equal to or more than the weight of the flour in the pound cake, making it a "high-ratio" cake.
Why is this important? High-ratio cakes can be created using the "high-ratio" or "quick-mix" method rather than the more popular "creaming" approach (where the butter and sugar are creamed together before the eggs, flour, and liquid are added). In order to do this, combine all the dry ingredients, the butter, and some of the liquid components in a large bowl before adding the other liquid ingredients. In addition to being quicker and simpler than the conventional creaming procedure, this approach also produces cakes that are exceptionally soft and have a fine texture.
To start, combine the milk, eggs, and vanilla in a medium bowl. Whisk with a spoon until just combined and set aside.
Put the flour, sugar, baking soda, and salt in the bowl of an electric mixer with the paddle attachment (or use a hand mixer).
Mix on low speed for about 30 seconds or until blended.
Add the butter and half of the egg mixture.
Mix on low speed until the dry ingredients are moistened.
Clean the bowl's sides with a scraper. Add the remaining egg mixture in two additions, beating to incorporate after each addition for about 30 seconds. Avoid overmixing. (It's OK if the batter seems a little curdled or gritty.)
Scrape the batter into the prepared pan, then use an offset spatula or a spoon to smooth the surface. A thin wooden stick or toothpick placed into the center of the cake should come out clean after 45 to 55 minutes of baking when it has turned golden brown.
After about 10 minutes, place the cake on a wire rack to cool. After that, take the cake out of the pan and let it cool entirely on a wire rack.
The cake should be taken out of the pan and allowed to cool entirely on a wire rack. The cake should be wrapped in plastic after cooling or placed in a large bag that can be sealed.
At room temperature, the wrapped pound cake will last for several days; in the refrigerator, it will last for one week.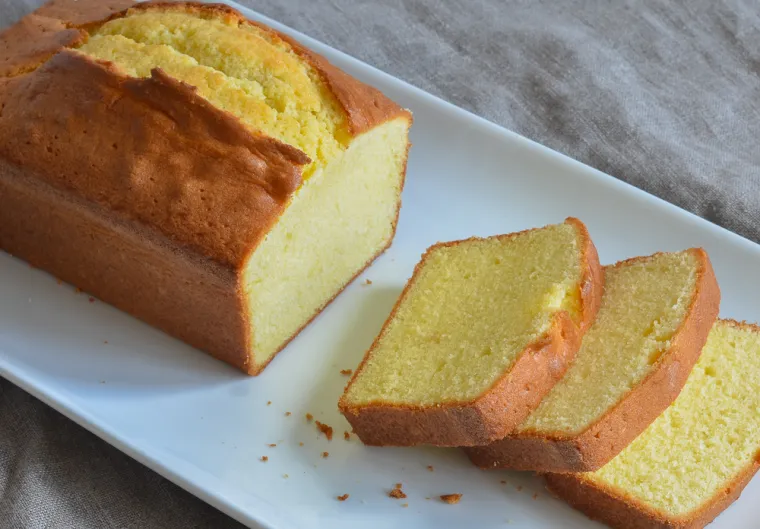 NUTRITION INFORMATION
Per serving (8 servings)
Serving size:1 slice
Calories:339
Fat:21 g
Saturated fat:13 g
Carbohydrates:34 g
Sugar:19 g
Fiber:0 g
Protein:4 g
Sodium:139 mg
Cholesterol:120 mg