Fruitcake Pound Cake
How to make at home
Ingredients
1 ¼ cups chopped mixed dried fruit, such as almonds, berries, apricots, pineapple, and cranberries
1 cup (2 sticks) chilled butter, plus more for oiling
2 cups grainy sugar
2 tsp baking powder
2 tsp vanilla extract
1 ¼ tsp salt
4 considerable eggs
3 ¾ cups all-purpose flour, plus more for dusting
1 cup cranberry juice
1 ½ cups red and green candied cherries
Procedure (how to make)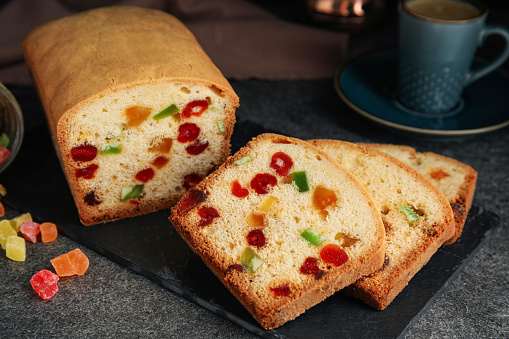 Step 1
Heat the oven to 325°F. Combine the dry fruit and 12 cups of water in a small microwave-safe bowl. 1 minute in the microwave
Step 2
In a large mixing basin, cream the butter and sugar together using a hand mixer or stand mixer until smooth and fluffy. Combine the baking powder, vanilla extract, and salt in a mixing bowl. Beat in the eggs one at a time, stopping to scrape down the sides of the bowl.
Step 3
Beat in the flour and cranberry juice in two batches, alternating between the two. Incorporate the dried fruit and its soaking liquid, as well as the candied cherries.
Step 4
Grease and flour a 12-cup bundt pan thoroughly. Bake 1 hour 20 minutes-1 hour 30 minutes, or until a skewer inserted into the center comes out clean, turning the pan halfway during cooking time.
Step 5
Cool the cake in the pan for 15 minutes on a wire rack. With a little offset spatula or butter knife, loosen the edges. Cover with a wire rack and flip over to loosen the pan.